As a local, member owned organisation, Tullamore Credit Union has a strong commitment to supporting organisations and initiatives that benefit the local community. Since our foundation this has been evidenced, not only by the credit unions willingness to provide loan funding to such groups, but also by providing donations to a wide range of organisations, charities, and sports groups to help fund their activities. The Community Support Fund 2019 issued donations to over 77 local groups and organisations.
Our Community Support Fund 2020 is open from the 1st of February to the 29th of February, to which local community, cultural, charity and sports groups may apply for funding to assist with worthwhile projects.
Groups or organisations applying for sponsorship must complete the official entry form stating why they should qualify for sponsorship. Completed application forms, together with any supporting documentation, must be returned to the Credit Union by Saturday 29th February 2020 at 5pm. Applicants must be from within Tullamore Credit Union's common bond, and must be for projects that benefit the local area.
Tullamore Credit Union will acknowledge all entries received. All applications will be considered and the beneficiaries will be announced at a presentation which will take place in the coming weeks.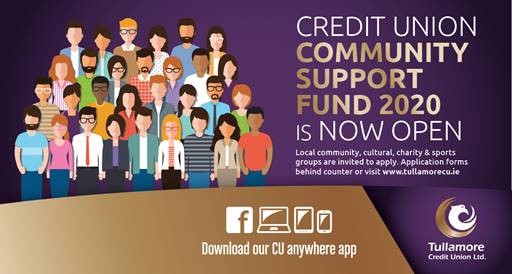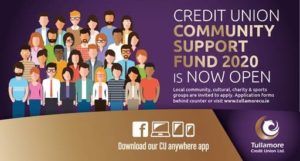 Application forms are available to download here under the download form tab.